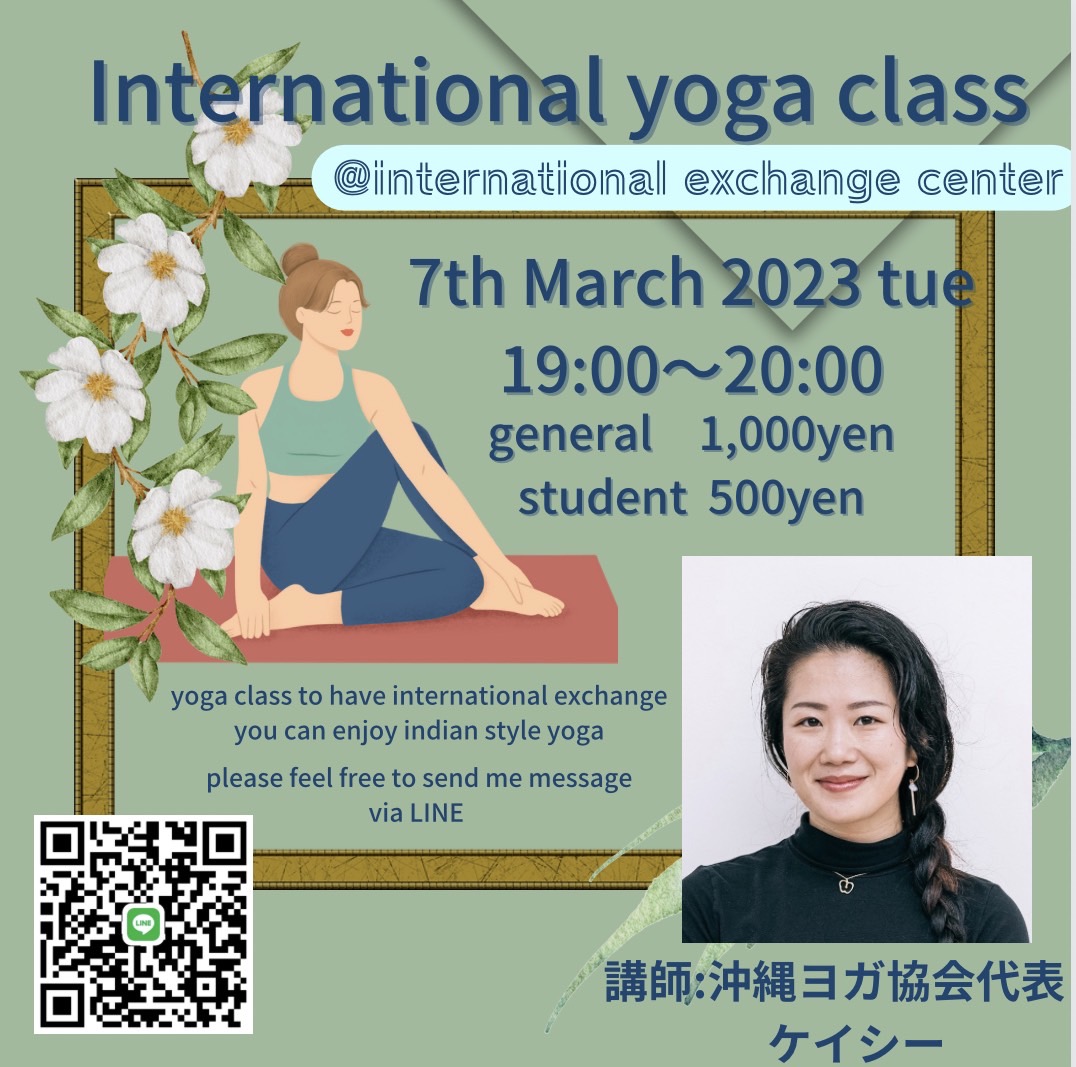 International exchange yoga class March 7, 2023 19:00-20:00 Representative Cathy!
Namaste, this is Cathy ❇️
Until now, many people have asked me why I don't practice yoga in northern Okinawa?
Finally, finally, we can hold it ♬
at the Nago City International Exchange Center
╱
International exchange yoga class March 7, 2023 19:00-20:00
╲
This event will be held as a backpacker for 2 years in 47 countries ✈︎
A yoga class to have international exchanges that Cathy loves
The purpose is to promote international exchange between residents of the prefecture and people of foreign nationality.
Of course, you can participate alone, and if you have a friend of foreign nationality, please invite them ♬
Classes are held in both English and Japanese, so foreigners are welcome ❇️
Cathy's yoga class features…
Indian Classical Yoga
A classic yoga class incorporating elements of mantras, Indian yoga philosophy, postures, breathing techniques and meditation.
yoga style.
See below for details
《International Exchange Yoga Class by Cathy》
[Date and Time] March 7, 2023 19:00-20:00
[Place] Nago International House (parking lot available)
487 Miyazato, Nago City, Okinawa Prefecture 905-0011
[Contents] Classical Indian Yoga (English/Japanese)
[Cost] General 1,000yen/Student 500yen
[Target] Yoga beginners, those who want to move their bodies, those who want to try yoga, those who have pain in their bodies
[What to bring] Yoga mat, drink (up to 5 can be rented / 100 yen)
[Reservation method] Please register on LINE from the following and send a message that you would like a yoga class at Nago International Exchange Center.
https://line.me/ti/p/nqmxogHG0R
I will get back to you within 24 hours!
So far, I have traveled to 47 countries on five continents on my own, and I have come to realize that there are no limits to human beings.
After taking my yoga class,
you will discover yourself who can be , realize my potential, and found the axis of my life.
We have received many compliments.
I usually live in Kunigami village, but this time I decided to hold an event in Nago.
Please feel free to join us on your own or with friends.
Namaste
#Yoga trip #round the world #yoga #yoga philosophy #yoga pose #yoga breathing method #yoga meditation #casey #kunigami village #nago city #nago international hall